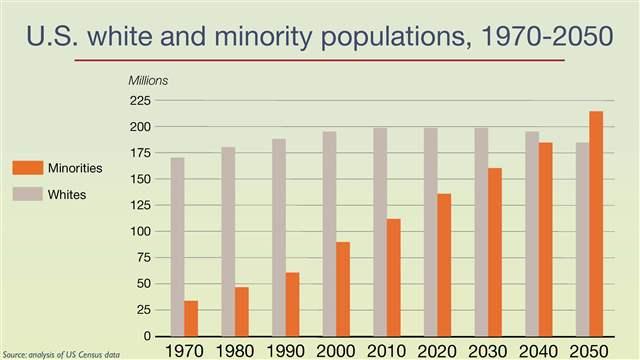 "The United States hit an important benchmark in 2011 that many Americans might have missed. That was the first year more minority babies were born than white babies." This is the chilling opening of an article written by Voices of America, a multimedia publication funded by the United States Government.
This article goes on to explain how the demographic shift in America is transforming at present with projections showing that in another 30 years, European whites will no longer be the majority in the US. We urge you to look at the full article especially the wonderful infographic map towards the bottom which demonstrates the stark decrease of majority white counties over the last 30 years.
Another great article worth reading about this topic and the diversity explosion within the US can be found here. Written by The New Republic, this article contains a number of scary graphs showing the change in population and race demographic trends.
The book Diversity Explosion: How New Racial Demographics Are Remaking America, written by renowned international demographer William Frey published in late 2014. This book discusses and projects the shifts in racial demographics within the United States and how policies and cultural shifts such as interracial marriage and immigration are impacting modern America.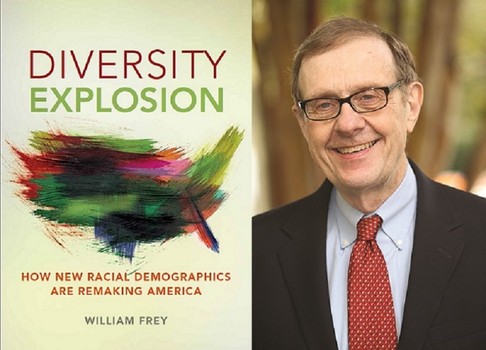 Book Synopsis:
At its optimistic best, America has embraced its identity as the world's melting pot. Today it is on the cusp of becoming a country with no racial majority and new minorities are poised to exert a profound impact on U.S. society, economy, and politics.
In April 2011 a New York Times headline announced, "Numbers of Children of Whites Falling Fast." As it turns out, that year became the first time in American history that more minority babies than white babies were born. The concept of a "minority white" may instill fear among some Americans, but William H. Frey, the man behind the demographic research, points out that demography is destiny and the fear of a more racially diverse nation will almost certainly dissipate over time.
Through a compelling narrative and eye-catching charts and maps, eminent demographer Frey interprets and expounds on the dramatic growth of minority populations in the United States. He finds that without these expanding groups, America could face a bleak future thus, this new generation of young minorities who are having children at a faster rate than whites, is infusing our aging labor force with vitality and innovation.