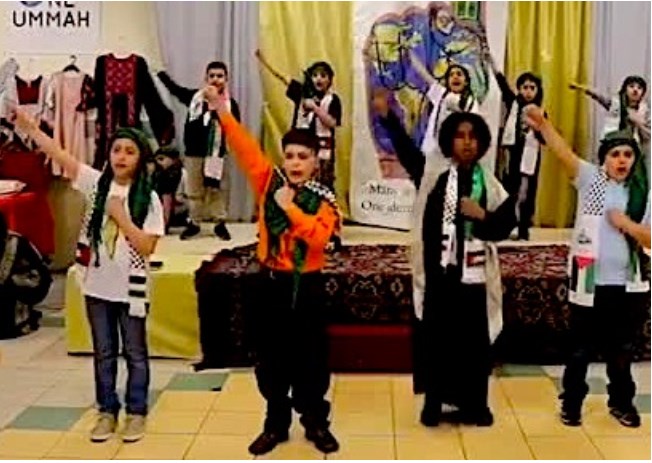 Muslim Kids in Philadelphia Being Trained to Battle Jews Over Mosque on Temple Mount.
Muslim Kids in Philadelphia Being Trained to Battle Jews Over Mosque on Temple Mount
Philadelphia is one of the oldest cities in the United States and was once the nation's capital. Now it's the country's seventh largest metropolitan area and boasts a diverse population, including a burgeoning Muslim community.

The coming battle over the Temple Mount in Jerusalem is heating up as pro-Palestinian Muslim fanatics are indoctrinating young school children in Philadelphia to sacrifice their lives in defense of the Al Aqsa Mosque which the Jews have slated for destruction:
On April 22, 2019, the Muslim American Society Islamic Center in Philadelphia (MAS Philly) uploaded a video of an "Ummah Day" celebration to its Facebook page, in which young children wearing Palestinian scarves sang:

"Glorious steeds call us and lead us [to] the Al-Aqsa Mosque. The blood of martyrs protects us… Take us, oh ships… until we reach our shores and crush the treacherous ones… Flow, oh rivers of martyrs!" A young girl read a poem praising martyrs who sacrificed their lives for Palestine, and she asked: "Will [Jerusalem] be a hotbed for cowards?" Another young girl read: "We will defend [Palestine] with our bodies… We will chop off their heads, and we will liberate the sorrowful and exalted Al-Aqsa Mosque… We will subject them to eternal torture."

MAS Philly belongs to the Muslim American Society (MAS), which has 42 chapters in the United States and one in the United Kingdom. MAS' website says that its mission is to "move people to strive for God-consciousness, liberty and justice, and to convey Islam with utmost clarity," and that its vision is "a virtuous and just American society."
These Muslims are not "extremist" or "radical"; among other Muslims, they probably seem moderate simply because they haven't blown themselves up yet over some mis-perceived slight against Islam or its pedophile visionary "prophet". But what's significant about this video is that it reveals that Muslims in America are training to defend the mosque on the Temple Mount in Jerusalem, which the Jews have slated for destruction in order that they can build their "third" temple in its place.
In America we have Jews and deluded Christian evangelicals working together to build this "third" temple on the Temple Mount, with millions of dollars going into its planning and construction. Now we find out that we have Muslims in America planning to blow themselves up if necessary to defend that mosque against any jewish attempts to destroy it. This inevitable confrontation is very real, and America is being set up as the fall guy to be blamed with the SHTF.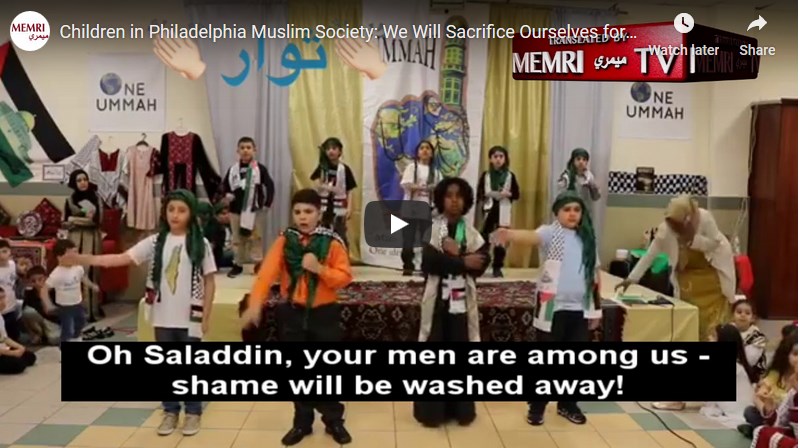 Children in Philadelphia Muslim Society: We Will Sacrifice Ourselves for Al-Aqsa
In Philly the Muslim school was busted teaching their kids to say and sing about chopping off the heads of infidels. They should ALL be deported. All Muslims! No exceptions. 05-05-2019 They said it was "unintentional". They got caught putting it on Facebook.
Just seen the Islamic children video from Philadelphia singing about chopping heads off.Hope the American public takes care of business on this matter ,shame we let them into our country and they sing this crap.
CNN wrote over 20 articles on Covington Catholic students, but ignores Philly muslim children chanting about chopping off heads!
Muhammed married a 6 year old and had sex with her at age 9 and he was 30-60
Islam is a religion of war and terror since it allows suicide bombers and BARBARIC; beheadings, lashings, cutting limbs and from the evil one, INTOLERANT; dont tolerate others religion
---