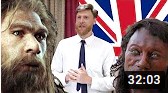 The Whites in Britain are White Europeans.
The History of Britain and her People
A talk I did in London on the subject of Britiain's demographic history. I begin with the Ice age, cover the Neolithic revolution, the arrival of the Beaker folk, Anglo-Saxons, Vikings, the blackamoors act of Elizabethan times and right up to present day HMS Windrush etc.
There was a fault with the editing so the image of the Homo Erectus appears 30 seconds later than it should, please ignore that. It appears as I am discussing Neanderthals, but don't worry, I know the difference between erectus and neanderthal!
"Europe belongs to the Europeans" Dalai Lama
Porter Rockwell
hould be taught this and to be proud of their ancestors/heritage.
I'm not British, but here's another reason for you to be proud to be British: Edward Elgar. The man wrote some of the most beautiful and powerful music ever written!
Britain for the native British people!
Europe for Europeans!
NO MORE MULTICULTURALISM!
Greetings from the United States ??