The information below is taken from a Jewish website with permission by true Jews who actively campaign against Chabad-Lubavitch. They state that Chabad-Lubavitch is not a true Jewish organization but are in fact false Jews, whose leadership engages in criminal activities. The Chabad Mafia website gives the reader insight into the cult-like tendencies of the Chabad-Lubavitch movement and has a list of links and categories.
Chabad-Lubavitch is a Hasidic movement in Orthodox Judaism and is one of the world's largest and best-known Jewish organizations. Chabad maintains institutions in over 1000 cities around the world. By 2010, there were an estimated 3,600 Chabad institutions worldwide across 70 countries, providing outreach and educational activities for Jews through Jewish community centers, synagogues, schools, and camps. The movement has over 200,000 adherents and up to one million Jews attend Chabad services at least once a year.
In terms of organizational structure, non-Jewish European Caucasians could learn much from Chabad. They are very well-organized and have branches in most major cities of the world, for example, an Internet search on "Chabad London" or "Chabad New York" reveals a long list of local groups. The Chabad Lubavitch does help various communities around the world, however, some of its leaders are corrupt. Some Chabad believes that all "non-Jews are evil" and "all Jews have good souls". Do not be fooled by this rubbish! There are some very good Goyims and True Jews of all backgrounds.
The Jewish Rabbe Gilad Klainer said, "Don't let Ethiopians from Africa into Chabad Schools......." The Jewish customs and beliefs originated from the Middle East and were not developed by Africans, Chinese or Ethiopians. Some Ethiopians have adopted the Jewish religious beliefs and are using it to their advantage to gain entry into Israel, which they believe will supposedly give them a better lifestyle than in their own countries. This article on the decline in the Ethiopian birth rate, reveals that Ethiopian women who emigrated to Israel were given a contraceptive injection without being told what it was. This was done because many Jews realized that sometime in the future if too many 'colored people' were allowed into their country, they (Caucasian) would eventually be the minority.

The Jewish culture and beliefs belong to the Middle Eastern, European Caucasian peoples who have practiced these traditions in the Middle East and other parts of the world for centuries. Chabad does not support the idea of Ethiopians in their schools, and there have been people protesting against this, but remember, the Rabbe understood that there is a distinct difference between Ashkenazim, (Europeans), Africans, Asians and Ethiopians who are not natives of Europe, the Middle East or Israel. Many Jews believe that Ethiopians are a different race of people and therefore, should be repatriated from Israel to their own country.

The following quote is a comment from an anonymous reader of Chabad's library articles, and clearly sums up the opinions explained above:

The Public Broadcast Service (PBS), had a program called "Finding your Roots" that had a very informative program special called "Our People, Our Traditions", that documented Ashkenazim Jewish DNA, and traced the DNA of Ashkenazim Jews to Europe. As for Ethiopian Jews, they are black African people of origin from the African continent and are related to other African people.

Modern European DNA is different from African DNA and the Middle Eastern DNA is different from Ethiopian DNA. The Chumash (Hebrew name for the Five Books of Moses) says that Moses was born with a beautiful light shining from his face that lit up the whole room. As one of the commentators asks, "Did you ever hear of an Egyptian that fit that description?"
Leaving Ultra-Orthodox Judaism - Footsteps
A support group called Footsteps is providing counsel to those who have chosen to leave the confines of the ultra-Orthodox world in which they were raised.


Moshiach idol worship inside 770 Chabad world headquarters
This video shows Chabad followers singing to their fake Moshiach and cult leader who died in 1994. Chabad is a religious cult and criminal organization and is not considered to be part of the Jewish Faith.

According to Menachem Mendel, Over 30% of children born to Haredi families in Israel leave the Haredi lifestyle when they grow up. Some of them become Dati Leumi*, others secular. In the USA, over 50% leave, and many of them end up marrying non-Jews.............
* Wikipedia definition: ....and ideology that combines Zionism and observant Judaism.

Top Rabbi Exposes Jewish Racism!
The Chabad are Programming Us All
"Morris - For over a hundred years a very small group of people have taken over one nation after another. We have been socially engineered to be selfish consumers and not to concern ourselves with other people that we don't know - like those we are bombing.........."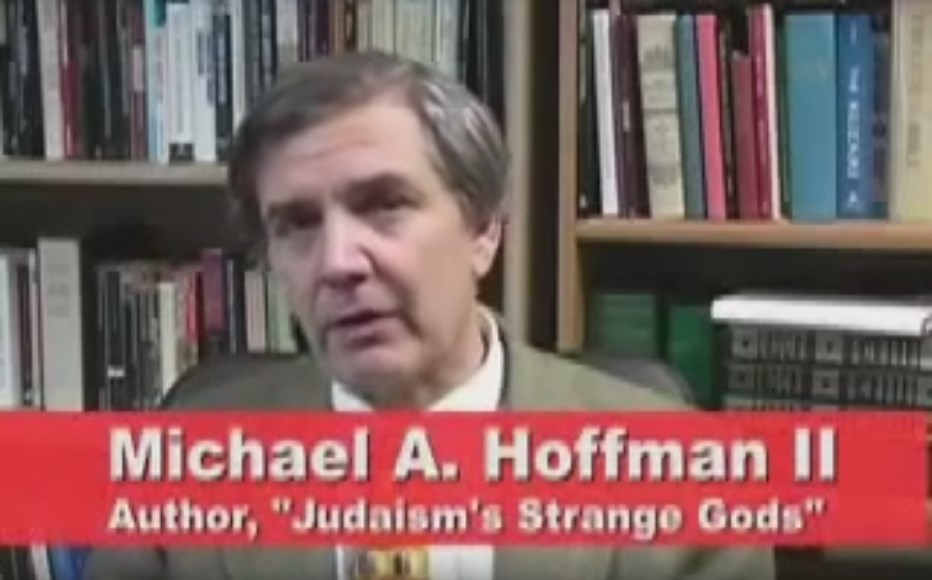 "Michael Hoffman talks about Chabad Lubavitch being an Organised Political Power."

"Corey Gil-Shuster — Want to know what Israelis and Palestinians in the Middle East really think about the conflict?"
Religious Jews are asked about the Talmud

Quotes I (Gil-Shuster) was sent supposedly from the Talmud:
1. "The Jews are human beings. The non-Jews are beasts and not human" (Baba Mezia 114b)
2. "The idoliators (non-Jews) are like dogs. You must honour the dog more than you honour the (non-Jew)" (Egret Raschi Erod. 22 30)
3. "The souls of non-Jews come from impure spirits and are called pigs" (Jalkut Rubeni gadol 12b)
4. "If you eat with a non-Jew it is the same as eating with a dog" (Tosapoth, Jebamoth 94b)
5. "It is permitted to take the life and body of a non-Jew" (Sepher ikkarim III c25)
6. "It is okay to cheat the non-Jew and the idolator" (no source)

Many true Jews are unaware or have their own viewpoint when it comes to the Talmudic 'hate' verses. Sadly there are false Jews who have become polarised with the above 'hate' laws, actually believing in, and practising them. The result of such bad attitudes is that the Jewish community suffer, along with everybody else. In addition, these laws are not made by God, but made by people. They should be discarded!
Man made religion promote genocide of all Christians all over the world
Some Jewish Rabbi promotes the Muslim invasion into white Christian countries "Edom" (Christian) must be destroyed before "Messiah" can "return'. Translate; Jewish living person becomes the world Jewish leader (Messiah leader), not the return of God.
Blog: Haredi Rabbi says Muslim invasion of Europe is 'excellent news' because "Edom" (Christianity) must be destroyed before "Messiah" can "return" →
The majority Jews did not come from Israel, they came from Ice Age Europe and they are the same race as white Europeans. Nobody practice this man made Jewish faith during Ice Age.


ALL OF THE FOLLOWING INFORMATION IS TAKEN DIRECTLY FROM THE CHABAD MAFIA WEBSITE.


Disclaimer: Please conduct your own investigation about the issues mentioned in this website. This website is only a brief summary of the problems with Chabad. For more information, please talk to your local community Rabbi.
Copyright Notice From Chabad Mafia Website: According to Jewish Law, it is a Mitzva, a religious obligation, to provide this information to every Jew in the world, in order to protect Jewish children from Chabad, and to save Jewish lives and Jewish souls from being destroyed by Chabad. Therefore, permission is granted to copy and reproduce all of the information found on this website in any form and publication, including any website or blog, and to translate it to any language. The only requirement is that you mention that the information was obtained from this website, and in the case of internet pages, please add a link back to this website.


C H A B A D M A F I A
chabad = lubavitch = cult = mafia = crime = fraud = abuse = drugs = fake
| Chabad | Cult | History | Religion | Mafia | Crime | Fraud | Abuse | Drugs | Fake |Hatred | Holocaust | Messianic | Boss | Jewish Law | Alternatives | Español | Violence | USA | Israel | World | Idolatry | Book | Psak | Life | Psycho | Kidnap | Arson | Supremacy | Madness | Feedback | Videos | Contradict |
The Jewish People have a big problem. This problem is an organization known as Chabad, Chabad-Lubavitch, or Lubavitch. This website describes this problem, and tries to prevent additional Jews from becoming "Victims of Chabad."
This website was created by Jews for Jews. If you are not Jewish you may not understand what is being presented. If you are Jewish and you do not understand, then you should consult with your local Orthodox (non-Chabad) Rabbi, and do your own research about these issues.
What is Chabad? Chabad is a religious cult and a criminal organization. Why is this a problem for the Jews? Chabad poses as an Orthodox Jewish group. They say they are more religious, more strict in their religion, than regular Orthodox Jews.
In reality, Chabad's ideology is NOT Jewish. In Israel, Chabad is considered by the most important Rabbis as a religion different from Judaism. Chabad is a different religion. Chabadism is NOT Judaism.
So, why is this bad for the Jews? Chabad is a criminal organization. Chabad is mostly involved in white collar criminal activities such as financial fraud, tax evasion, and money laundering.
---
Chabad has also been linked to various Jewish child abuse cases
---
When these criminal activities are discovered and exposed to the public, and because Chabad poses as a Jewish organization, anti-Jewish hatred is created. That is, Chabad creates anti-semitism in the world.
Also, many of Chabad victims are Jewish. Mostly, Jewish children. Chabad runs several schools around the world. The objective of these schools is NOT to provide a good Jewish education for their students. The objective of these schools is to MAKE A PROFIT at the expense of the Jewish children.
---
A Chabad school is NOT a safe place for Jewish children
---
In fact, everything and anything Chabad does, they do to MAKE A PROFIT. Chabad Rabbis are known to have millions of dollars in their offshore bank accounts resulting from, among other things, donations.
This facts explain the advice that many important Rabbis have been giving us for the past few decades:
DO NOT PUT YOUR CHILDREN IN A CHABAD SCHOOL,
EVEN IF THEY OFFER YOU FREE TUITION
IF YOUR CHILDREN ARE NOW IN A CHABAD SCHOOL,
REMOVE THEM IMMEDIATELY
NEVER GIVE ANY MONEY TO CHABAD,
NEVER GIVE ANY DONATIONS TO CHABAD
BOYCOTT ALL CHABAD PROJECTS, AND
AVOID PRAYING IN A CHABAD TEMPLE
Chabad-Lubavitch is a religious cult from Crown Heights, Brooklyn, New York. Chabad-Lubavitch thrives in areas with large numbers of assimilated Jews, who are ignorant about Judaism, so they can teach them their ideology.
Chabad-Lubavitch is also an international organized crime syndicate that strangles free enterprise and raises the level of violence, fraud, and corruption in various cities in the USA, and across the world.
What to do? First, DO NOT SEND YOUR CHILDREN TO A CHABAD SCHOOL. NEVER! If your children are now attending a Chabad-Lubavitch school, remove them IMMEDIATELY and send them to a regular Jewish school, a non-Chabad school. Also, NEVER GIVE ANY MONEY TO CHABAD. If you want to give charity, give to a Jewish organization, not to Chabad.
---
IF YOU LOVE YOUR CHILDREN,
DO NOT PUT THEM IN A CHABAD SCHOOL
---
Advice from the Rabbis for those living outside of Israel, "A Jewish child should always be sent to a private Jewish school. A family living in a place where there are no Jewish schools, should move to a Jewish community with good Jewish schools. A family that has no money to send their children to a private Jewish school should move to Israel, where all schools are free, and send their children to a religious school there. A Jewish child should NEVER be sent to a Chabad school because a Chabad school is NOT Jewish. In the USA it's better to send a child to a public school rather than a Chabad school."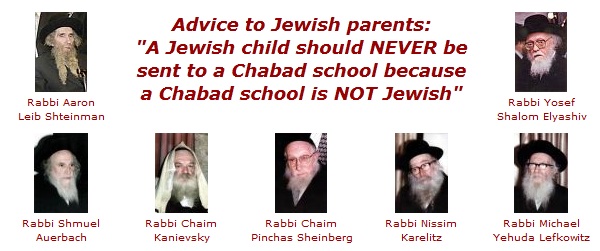 ---
DO NOT SEND YOUR CHILDREN TO A CHABAD SCHOOL. NEVER !!!
---
Hidden camera reveals what Chabad teaches children
Chabad Children Salute Invisible Rebbe Moshiach
THIS IS NOT JUDAISM !!!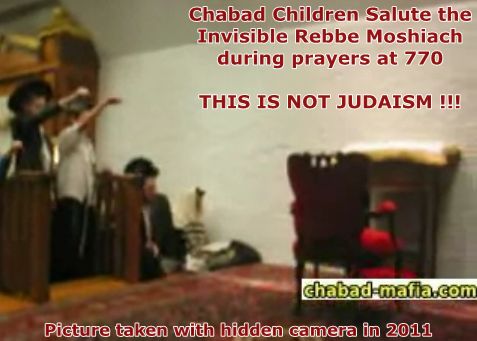 ---
CHABAD-LUBAVITCH IS NOT A JEWISH ORGANIZATION, KEEP
YOURSELF, YOUR CHILDREN, AND YOUR MONEY, AWAY FROM IT!
In this website we try to provide a simple explanation as to why Chabad is bad for the Jews. At the same time, we call on all Chabad Rabbis to abandon their Chabad ways and come back to the Jewish People. Make no mistake, Chabad is a religious cult and a criminal organization. Chabad is bad for the Jews.
---
IMPORTANT MESSAGE FROM THE GDOLEI HADOR:
("Gdolei Hador" means "Great Rabbis of the Generation")
WE CALL UPON EVERY RABBI IN EVERY JEWISH COMMUNITY IN THE WORLD TO EDUCATE AND TELL THEIR COMMUNITY THAT CHABAD IS NOT JEWISH.
WE CALL UPON EVERY PRINCIPAL IN EVERY JEWISH SCHOOL IN THE WORLD TO EDUCATE AND TELL THEIR STUDENTS THAT CHABAD IS NOT JEWISH.
WE CALL UPON EVERY JEWISH FATHER AND JEWISH MOTHER IN THE WORLD TO EDUCATE AND TELL THEIR CHILDREN THAT CHABAD IS NOT JEWISH.
THIS IS ALREADY BEING DONE IN ISRAEL AND MANY OTHER PLACES. CHABAD HAS GONE TOO FAR.
EXPEL CHABAD FROM YOUR COMMUNITY NOW,
BEFORE THEY CAUSE ADDITIONAL HARM.
Contest: A $100,000 US Dollar prize will be paid to anyone who can find even one respectable Israeli Rabbi who says that Chabad is Jewish. You will never find any such Rabbi, but try to find it anyway as an educational exercise if you still think that Chabad is Jewish.
!!! CHABAD IS BAD FOR THE JEWS !!!
!!! JUST SAY NO TO CHABAD !!!
18/5/2016