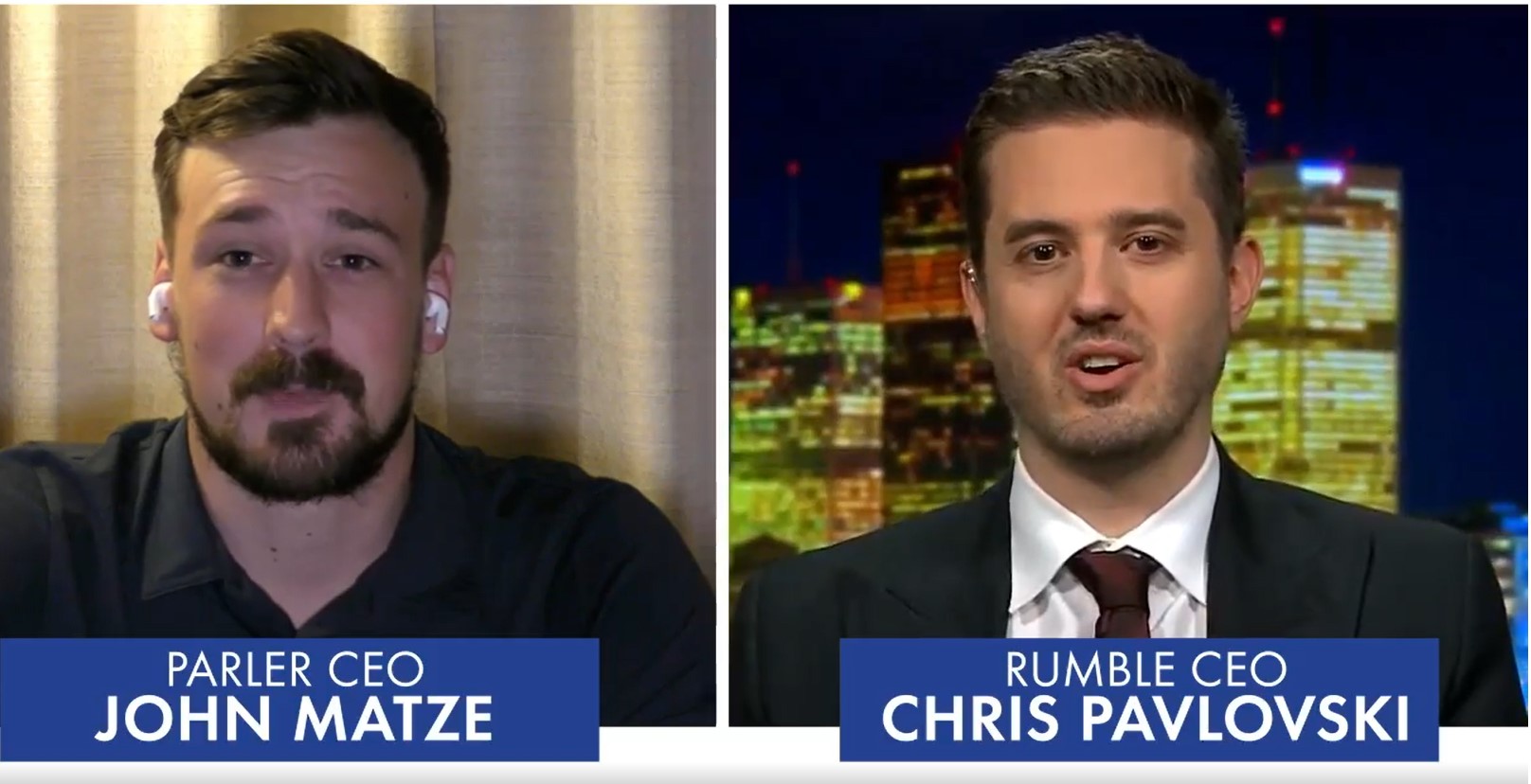 TONIGHT: Parler and Rumble CEOs on 'Life, Liberty & Levin,' 8p ET
Rumble CEO Chris Pavlovski is Jewish.
Parler
Parler (/ˈpɑːrlər/) is an American alt-tech social networking service associated with conservatives.[9][10][11][12][13][14] Journalists have described Parler as an alt-tech alternative to Twitter, and users include those banned from mainstream social networks or who oppose their moderation policies.[15][16][17][18] Launched in August 2018, Parler markets itself as a free speech-focused and unbiased alternative to mainstream social networks such as Twitter and Facebook.[19][16][20]
Parler's userbase grew exponentially during 2020 with minimal content moderation.[21][22] After reports that Parler was used to coordinate the 2021 storming of the U.S. Capitol, several companies denied it their services.[23] Apple and Google removed Parler's mobile app from their app stores, and Parler went offline on January 10, 2021, when Amazon Web Services canceled its hosting services.[24][25][26] Before it went offline in January 2021, according to Parler, the service had about 15 million users.[27] Parler called the removals "a coordinated attack by the tech giants to kill competition in the marketplace".[21] Parler resumed service on February 15, 2021, after moving domain registration to Epik.[28] A version of the app with added content filters was released on the Apple App Store on May 17, 2021.[7][8][29] Parler returned to Google Play on September 2, 2022.[30]
Founder and CEO John Matze was Parler's chief executive officer until January 29, 2021, at which point he said he had been fired by the company's board, which he asserted was controlled by co-founder and investor Rebekah Mercer.[31] Former Tea Party activist Mark Meckler served as interim CEO from February to May 2021, when the Brexit Party donor and former candidate George Farmer (husband of conservative activist Candace Owens) was named CEO.[32][33] In September 2022, Parler announced they would be restructuring under a new parent company, Parlement Technologies Inc., to focus on powering an "uncancellable economy".[34] In October 2022, Parler's parent company agreed in principle to a purchase of Parler by American rapper Kanye West,[35] a deal that was rescinded in December.[36]
Parler has received criticism for its content policies, which some journalists and users argue are more restrictive than the company portrays and sometimes more restrictive than those of its competitors.[37][38][39][40] Conservatives have praised Parler as offering an alternative to censorship they claim to endure on more mainstream platforms, such as Facebook and Twitter.[41]
Parler was founded by John Matze Jr. and Jared Thomson in Henderson, Nevada, in August 2018. The company's name was taken from the French word "parler", meaning "to speak".[1][42][17] The name was originally intended to be pronounced as in French (French pronunciation: [paʁ.le] (
listen), English approximation: PAR-lay), but is now pronounced as the English word "parlor" (/pɑːrlər/ PAR-ler).[43][44] The Wall Street Journal first reported in November 2020 that conservative investor Rebekah Mercer had funded Parler, and Mercer has since been revealed to have been a co-founder of the company.[3][1][42][45] According to Mercer, she co-founded Parler to counter the "ever-increasing tyranny and hubris of our tech overlords".[46] Thomson serves as the chief technology officer, and Matze was Parler's chief executive officer from its founding until January 2021.[47][6] Both are alumni of the University of Denver computer science program, and were roommates while in college.[17][45] Some other Parler senior staff also attended the school.[17]
2018–2019
Parler launched in August 2018, billing itself as an unbiased and free speech alternative to larger social media platforms, such as Twitter and Facebook.[43][48][49] The service was relatively unknown until a December 2018 tweet by conservative commentator and activist Candace Owens brought 40,000 new users to Parler, causing Parler's servers to malfunction.[48][50] The service initially attracted some Republican personalities, including then-Trump campaign manager Brad Parscale, Utah Senator Mike Lee, and Trump attorney Rudy Giuliani, as well as some who had been banned from other social media networks, such as right-leaning activists and commentators Gavin McInnes, Laura Loomer, and Milo Yiannopoulos.[15][43] Reuters wrote that Parler had "mostly been a home for supporters of U.S. President Donald Trump" until June 2019. Matze told the news organization that although he had originally intended Parler to be bipartisan, he had focused its marketing efforts toward conservatives as they began to join the service.[15]
In May 2019, Parler had 100,000 users.[43][48] In June 2019, Parler said its user base more than doubled after around 200,000 accounts from Saudi Arabia signed up to the network. Largely supporters of Saudi Arabian Crown Prince Mohammed bin Salman, the users migrated from Twitter after alleging they were experiencing censorship on the platform. Although Twitter did not acknowledge removing posts by Saudi users that might have triggered the exodus, the company had previously deactivated hundreds of accounts that had been supportive of the Saudi government, which Twitter had described as "inauthentic" accounts in an "electronic army" pushing the Saudi government's agenda.[15][51] The influx of new accounts to Parler caused some service interruptions, making the site at times unusable.[51] Parler described the Saudi accounts as part of "the nationalist movement of the Kingdom of Saudi Arabia", and encouraged other users to welcome them to the service.[15] Some of the Saudi users tweeted the '#MAGA' hashtag and photos of President Trump with the Saudi royal family in order to curry favor with the Trump-supporting and far-right users on the service.[51] The Saudi accounts found a mixed reception among the existing user base; though some welcomed the Saudi users, others made Islamophobic remarks, and some expressed beliefs that the new accounts were bots.[15]
Jews in power in Nazie Germany.
Erhard Milch
Erhard Milch (30 March 1892 – 25 January 1972) was a German field marshal who oversaw the development of the Luftwaffe as part of the re-armament of Nazi Germany following World War I. During World War II, he was in charge of aircraft production. He was convicted of war crimes during the Milch Trial held before the U.S. military court in 1947 and sentenced to life imprisonment; he was released in 1954.
Milch was born in Wilhelmshaven, the son of Anton Milch, a Jewish pharmacist[1] who served in the Imperial German Navy, and Clara Milch, née Vetter. The Gestapo would later investigate Milch due to his Jewish heritage. In 1935 rumours began to circulate that his father was a Jew. The Gestapo began an investigation which was halted by Göring who produced an affidavit by Milch's mother that his true father was her uncle Karl Brauer. Milch was then issued with a German Blood Certificate[2].