The Rockefeller Banking family has been working toward the New World Order. It has been said the Rockefellers actually are lieutenants of the Rothschilds. David Rockefeller built organizations like the Council of Foreign Relations in the United States and many others.
David died at the age of 101 on 2017. It has been said that George Soros (Jewish) is the replacement to do the biddings of the Rothschilds.
Some people say that David was a self-described Christian while others say he is a crypto-Jew (a Jew following Christianity) or even a false Christian. You would never see the Rothschild attacking the Rockefellers and George Soros families..
David Rockefeller (born June 12, 1915) is an American businessman and philanthropist who served as chairman and chief executive of Chase Manhattan Bank. The most senior member of the Rockefeller family, David is the only surviving child of John Davison Rockefeller, Jr. and Abigail Greene "Abby" Aldrich, and the only surviving grandchild of oil tycoon John Davison Rockefeller, Sr. (founder of Standard Oil) and Laura Celestia "Cettie" Spelman. His five siblings were Abby, John D. III, Nelson, Laurance and Winthrop
http://en.wikipedia.org/wiki/David _Rockefeller
How Bush's grandfather helped Hitler's rise to power by the left wing newspaper— "The Guardian" newspaper in Britain How Bush's grandfather helped Hitler's rise to power
Is the Rockefeller Foundation Jewish? You decide.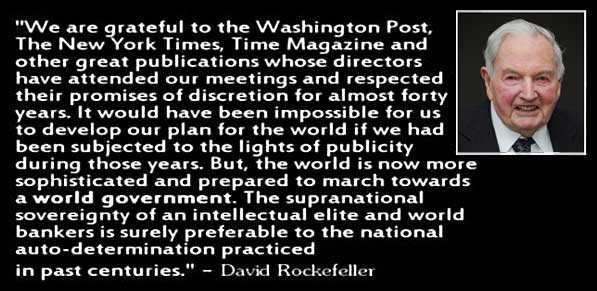 The Forgotten Lessons of the American Eugenics Movement
10 Horrifying Facts About American Eugenics
Rockefeller, The Family who shares half of the world's wealth with Rothschild ✪ Blow Your Mind ✪
Is the Rockefeller Foundation Jewish?You decide.
Jay Rockefeller
Jay Rockefeller Confronted & Exposed!
911 Criminal Jay Rockefeller exposed by We Are Change NY & LA lonchecaliente lonchecaliente
Absolutely you must watch this documentary: How big oil conquered the world
Terminally Ill Jewish Whistleblower Aaron Russo Exposes The Zionist New World Order
Aaron Russo: Rockefeller Admitted Elite Goal Of Micro-chipped Population (2007)
Rockefeller and Hilter
Hitlers American Business Partners - WWII Documentary
The Deep State rules many countries
The Deep State - Who Rules America, Full Documentary by Freedom TV