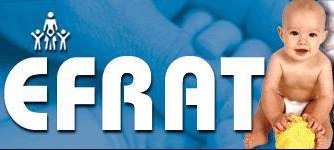 The Coveners League is impressed with a Jewish organization called Efrat, who since 1977, has saved 35,000 babies from terminations in Israel. The Israeli birth rate is currently quite low, though it is still higher than most other western countries. We feel that this organization could be a big reason for this difference.
An Israeli Bureau study shows that the Jewish birth rate was 1.7% in 2014, and the Muslim birthrate in the region was higher at 2.4%. The Christian population in Israel had the smallest birth rate of all at 1.6%. Out of these demographics, only the Muslim community is replacing itself and growing.
The Efrat organization approach has proven to be successful. Women who register for an abortion are called and asked discreet questions about why they wish to terminate the pregnancy. If reasons given are financial, the women are told about the Efrat organization and provided with contact details in order to call and see if aid is possible.
Efrat has over 3,000 volunteers throughout Israel ready to help these women. Once the pregnant woman calls them, they are offered 3 things:
Monthly food and baby supplies delivered to their door. These care packages include nappies, formula, canned and dry foods, and are sent for the first year of the baby's life. In some cases, these packages are sent for the second year of life for those families especially requiring financial aid.

Baby equipment. This equipment provides the essentials, including a cot, bassinet, stroller, baby bath and a baby kit, blankets, clothes, and bottles etc.


Social and emotional support is also provided, and each recipient is matched with an organization volunteer, to help them throughout their pregnancy, birthing and motherhood journey.
Useful Links and Contacts for Efrat
Websites
Israel: https://www.efrat.org.il/english/
United States: http://www.friendsofefrat.org/
Israel Contact Details
EFRAT
10 Ha'Illuy St.
Jerusalem
Israel
Telephone: +972-2-5454500
Fax: +972-3-6844848
Email:

This email address is being protected from spambots. You need JavaScript enabled to view it.
United States Contact Details
The American Friends of C.R.I.B. - EFRAT
333 West 86th Street, #1003
New York, NY 10024
USA
Telephone: 1-800-273-4314
Email:

This email address is being protected from spambots. You need JavaScript enabled to view it.