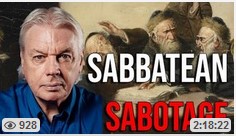 Sabbatian Sabotage - David Icke Talks To Angelo John Gage - Dot Connector Videocast
The Sabbeteans do what religion retards wanted, because they believe in a savoir. The Christian religion has the same goal as the Sabbeteans. Its only who rules the region after the destruction of Jewish Israel.
Christians are the hypocrites. They support Zionism only for judgement day. They believe Jesus will return and kill all Jews who don't believe in Jesus.
Christian Zionist believes that's why Zionism exists to create an Israel for an end time.
They are all lunatics with a god psychosis.
Plenty of historians doubt Jesus existed. The figure of Jesus is based on the Egyptian god Horus. If you look up details about them both you will see amazing similarities. I'm sure we are spiritual beings but I think all organised religion is really about control and based on a lot of dubious myths