BREAKING NEWS: @SidneyPowell1 says her lawsuit in Georgia could be filed as soon as tomorrow and says there's no way there was anything but widespread election fraud. #MAGA #AmericaFirst #Dobbs

November 29, 2020, 9:33pm

212
Efforts to bribe Native Americans to vote in states crucial for the Democrats were partially funded by George Soros' Open Society Foundation and government agencies.
Vote Native is an initiative of the National Congress of American Indians.
PROOF: Native Americans in Arizona Given TVs, Tablets, Resort Stays for Votes/Registering to Vote
Native Americans in Arizona were provided with electronics, resort stays and monetary gifts in exchange for registering to vote or actually voting at events that were also promoting Joe Biden
Any monetary exchange for votes, whether partisan or not, is illegal.
Some lucky natives were also treated to $50 Visa giftcards from the United National Indian Tribal Youth, Inc.


Based on actual results and accounting for states currently not called, still counting, recounting, under investigation or audit, or states with election issues now in the courts, President Trump is winning the 2020 Presidential Election.
Here is what we currently know in reference to the 2020 Presidential election. A number of states have been called but a number are still in question. Here is a list of those in question.

Edward Solomon believes he has uncovered how Joe Biden was able to steal the 2020 election.
EXCLUSIVE: Brilliant! America's Online Minutemen and Women Just Uncovered the Dominion Plot Transferring Vote Ratios between Pennsylvania Precincts (VIDEO
Another American patriot by the name of Edward Solomon believes he has uncovered how Joe Biden was able to steal the 2020 election.
In his video entitled: Smoking Gun: Dominion Transferring Vote Ratios between Precincts in PA, Solomon explains his thesis and provides numerous examples to support it.
We have now reported on several "glitches" in the ballot counting this year. Every single "glitch" resulted in Donald Trump losing votes and Joe Biden gaining votes. We have now witnessed these "glitches" in Pennsylvania, Virginia, Michigan and Wisconsin. At this point there is no way to know how many times this occurred or in … Continue reading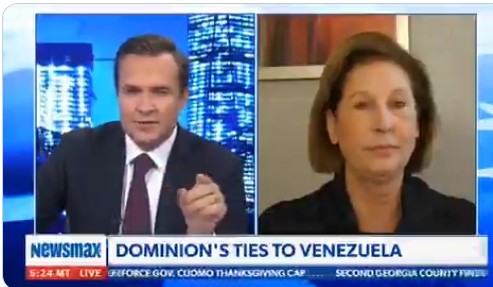 For exposing true evil in this world #DumpFoxNews #Newsmax #ThursdayThoughts #MAGA #Trump #KAG #StopTheSteaI #VoterFraud #WalkAway #ProLife #Foxit #Kraken #SundayThoughts #KrakenIsComing
From


Owen Shroyer shows the video evidence of Dominion voting systems corruption that Big Tech does not want you to see.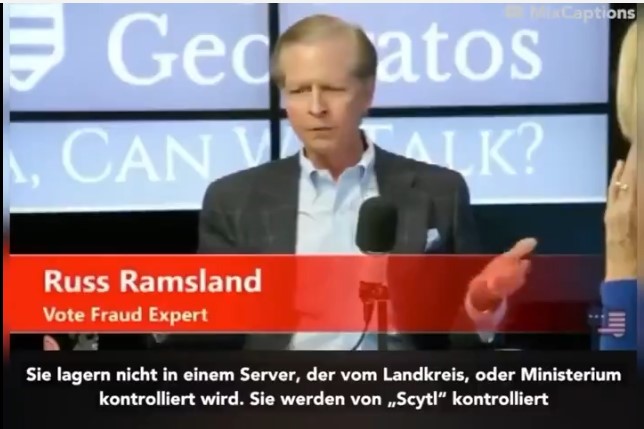 Got you! Dominion 2019! The connections of Scytll, Dominion, Smartmatic and ES&S ...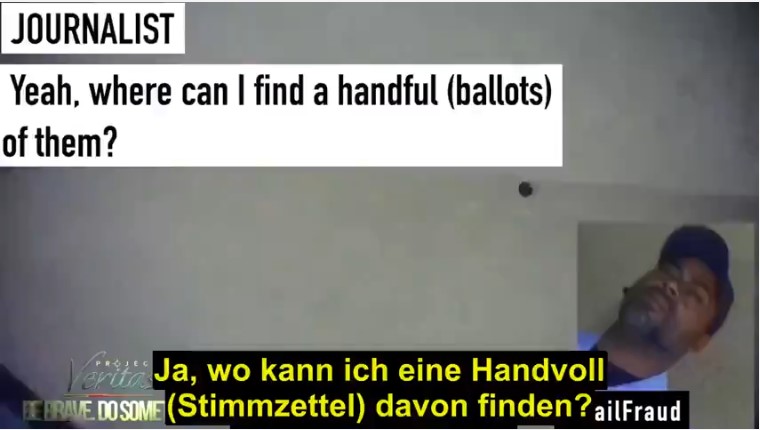 Nevada USPS carrier caught on tape promising voter fraud to remove Donald Trump from office!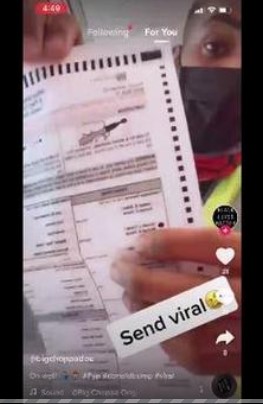 Proof of destruction of TRUMP ballots! Video is permanently deleted by Twitter!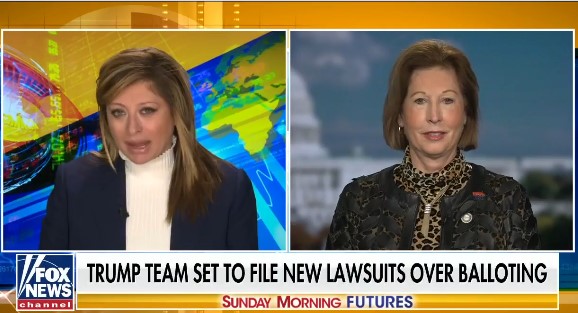 Trump legal team to file new ballot lawsuits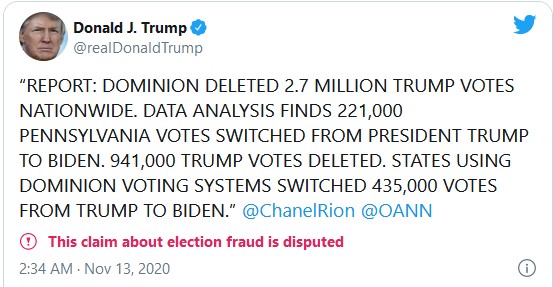 Project Veritas: USPS Whistleblower in Philly Suburb Details Orders to Stop Delivering Trump and Republican Mailings (VIDEO)
BREAKING: Project Veritas: USPS Whistleblower in Philly Suburb Details Orders to Stop Delivering Trump and Republican Mailings (VIDEO)
James O'Keefe strikes again!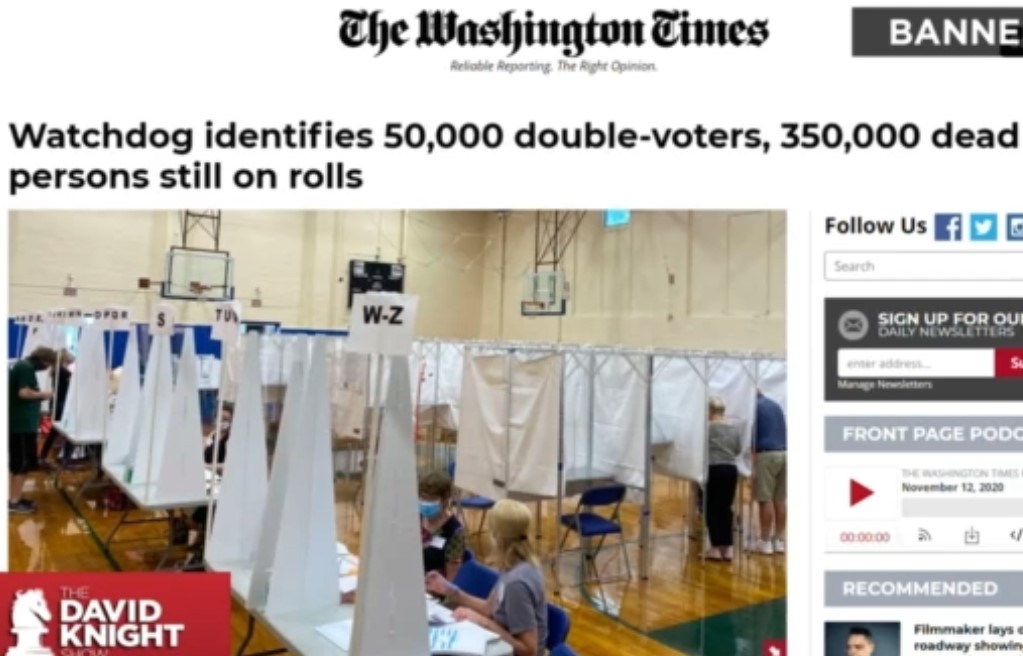 "Bring Out Your Dead" for the plague election. Mail ballots that defy the time/space continuum and other extraordinary, supernatural tales of Election 2020.
Extraordinary, Supernatural Tales of Election 2020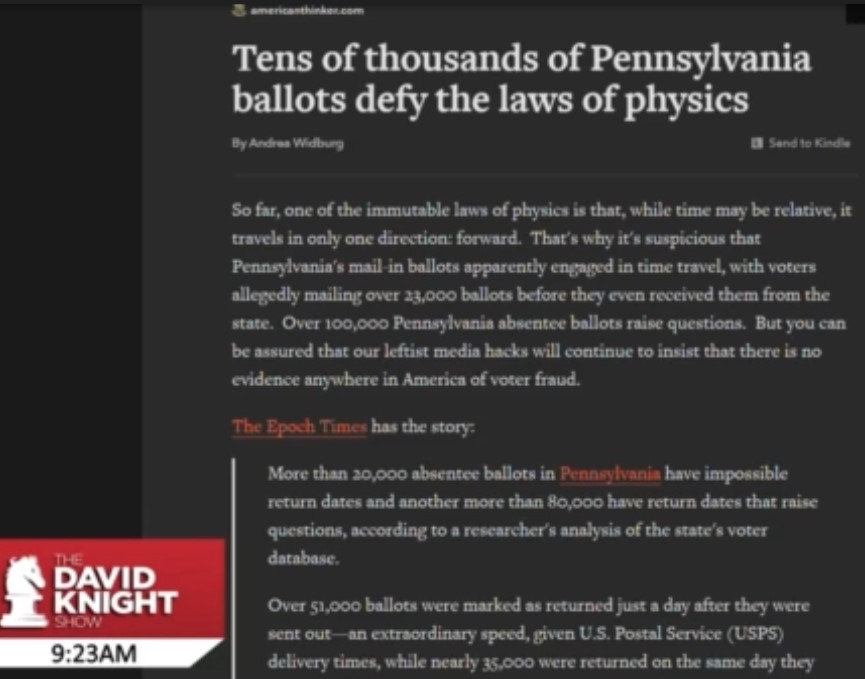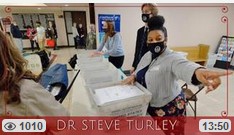 Leftists Start to PANIC as DEEP STATE Tries to SILENCE Eyewitnesses to VOTER FRAUD!!! [mirrored]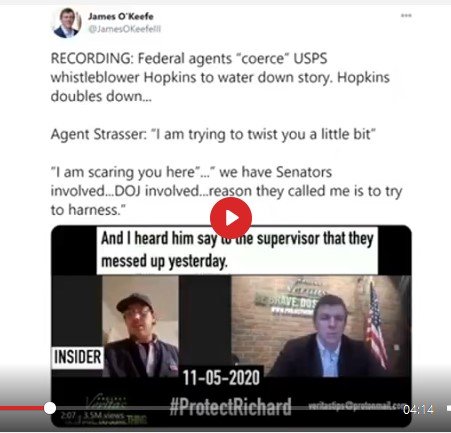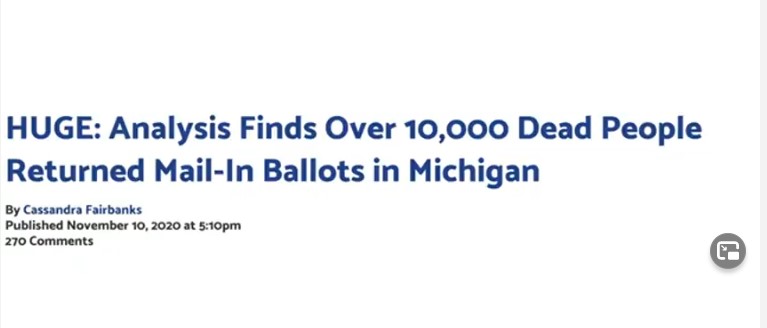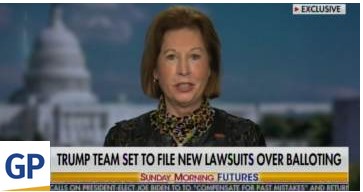 Developing: Nancy Pelosi's Chief of Staff Is Chief Executive and Feinstein's Husband a Major Shareholder at Dominion
Nancy Pelosi's Chief of Staff Is Chief Executive and Feinstein's Husband a Shareholder at Dominion
I wouldn't mess with Sydney Powel. She is General Flynn's lawyer. Yikes for democrats!
I watched the numbers coming in, and President Trump's votes kept disappearing!!
LET ME GET THIS STRAIGHT. THE STATE WHO DEPENDS ON FRACKING VOTED FOR BIDEN WHO VOWED TO ELIMINATE FRACKING. OK, I BELIEVE YA!
I sounded the alarm when I read the news George Soros purchase a stake in the electoral machine that was two years ago
Exactly right. They did this in the primary and stole the nomination from Bernie, again. Biden never had a REAL chance.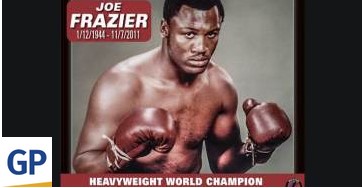 Joe Frazier (died 2011) voted in Pennsylvania 2020 election.
Frazier is a former heavyweight boxing champion.
November 7, 2020, 12:03pmby Jim Hoft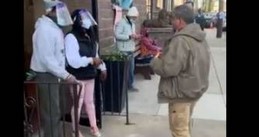 The United States Election Meddling by the Democrat party.
CAUGHT ON VIDEO: Philadelphia Poll Watcher Prevented from Entering Polling Place (VIDEO)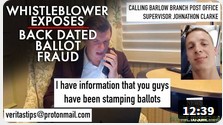 Whistleblower Exposes Back Dated Ballot Fraud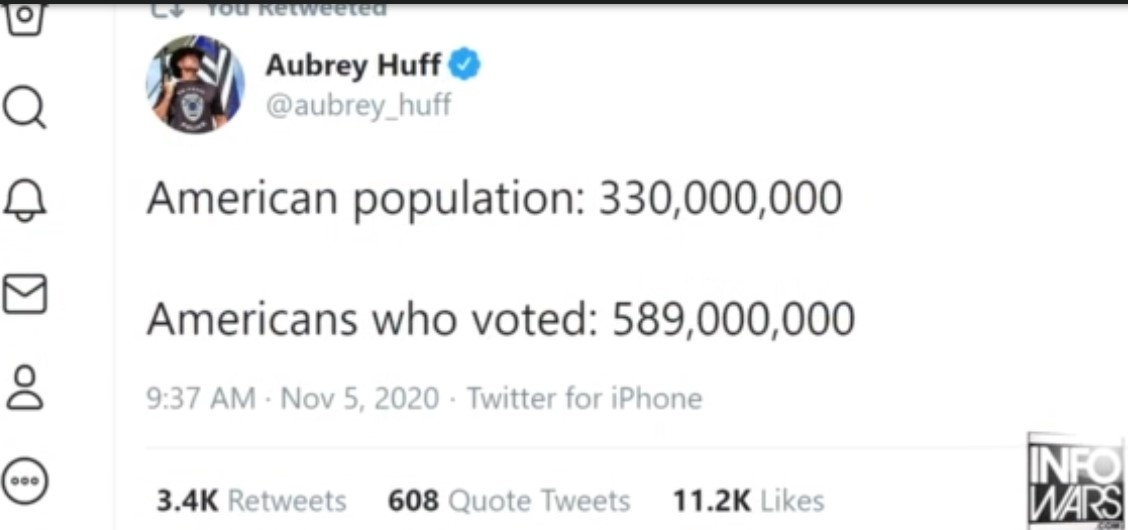 Stop The Steal of the 2020 Election by Exposing Leftist Voter Fraud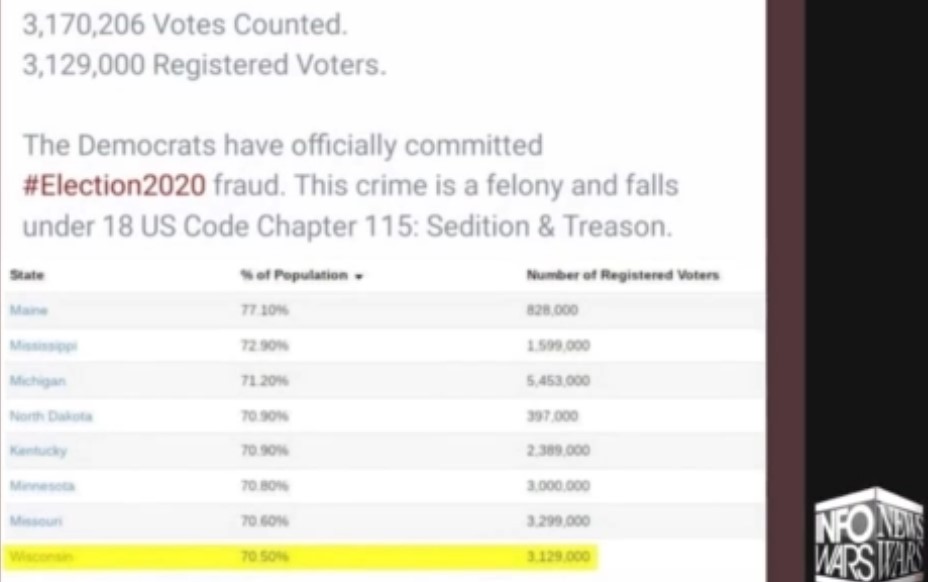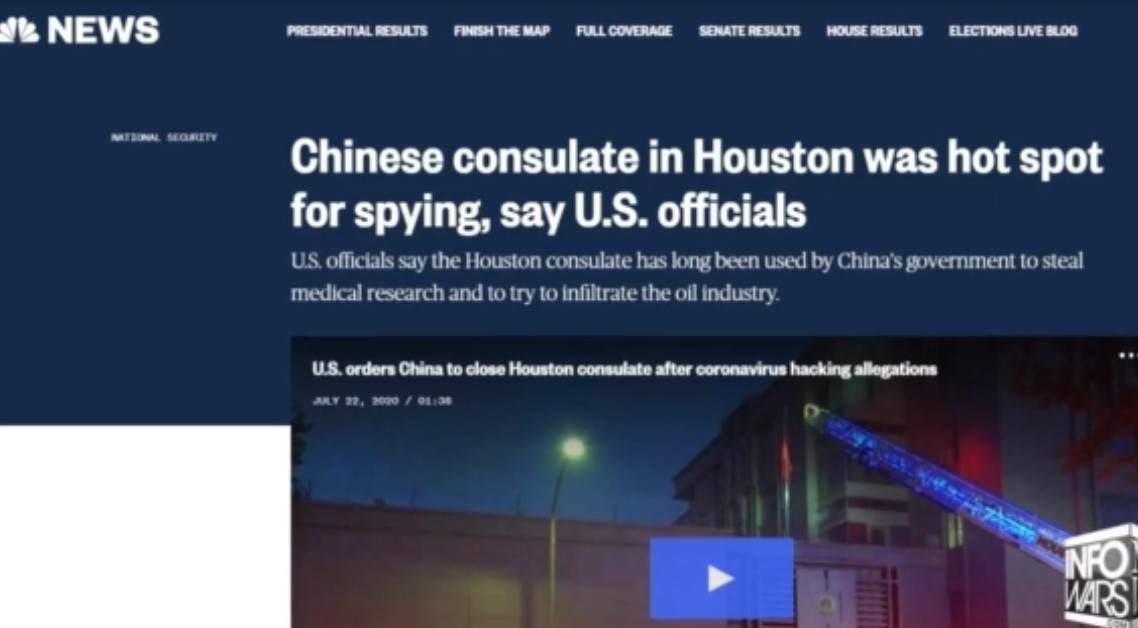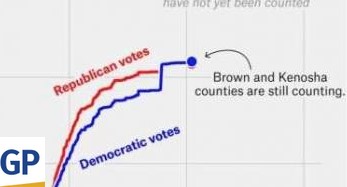 November 4, 2020, 12:14pmby Cristina Laila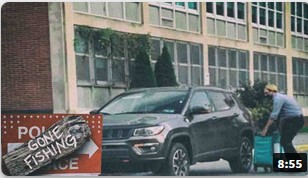 The Fraudulent Stench Of Election Day
Tensions were high in DC. Where anti-BLM mural activist Bevelyn Beatty was jumped by BLM and stabbed along with proud boys leader Enrique Tarrio resulting in hospitalization due to serious wounds. Election Day had been plentiful with incidents of voter fraud.And as America slept. Hundreds of thousands of votes were dumped in Biden's favor. In Milwaukee where the count was delayed until 3:30am, suddenly Biden had a 4.1 lead. And in MIchigan, over 100,000 votes went to Biden. While zero went to any other Presidential contender including Donald Trump. Statistical impossibilities stinking of fraud.
They would have you believe that the fishing for ballots scam is business as usual. But even the closest election in modern history between JFK and Nixon in 1960 was called by 7am the next morning. And even that race was marred by fraud. But nowhere near the election of 2020.
If this doesn't open your eyes i dnt kniw what will stack up people in the U.S.A the dems are gonna run your country into the ground while the qhole world watches shit like this should never be allowed if Trump pulls through hes gotta act, if not then hes just as bad as the rest of those scum.
Much love peeps from Aussie!!
So then.. what are actual hard working Americans gonna do when the communist agents Biden and Harris get Fraudualently elected into our homeland American economic engine and national soil with executive position. Cause it just methhead useful idiot retards in the streets, civilian recruitment and reinforcements against the incoming operations should be opened toward the leadership of the hydra structure of evil.

November 4, 2020, 8:49amby Jim Hoft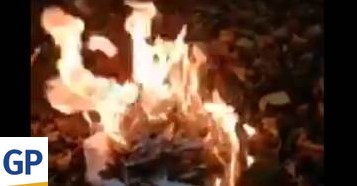 TRENDING: Voter Fraud in Michigan – Massive Dump of Over 200,000 Ballots for Biden All the Sudden Appear Overnight ...Update: Officials Call It a "Typo"
This Person Filmed Themselves Burning Stolen Trump Ballots… pic.twitter.com/nOszQd8WPG

— N̵̨̏͋͝īn̷j̷åS̸̳̮̥̮̱̣̦̈̐̀̎̄͘̕t҉u̷n̷t҉Z̶̨͛̂̐͗̈͐̒͘͝ (@Ninja_StuntZ) November 4, 2020
November 4, 2020, 2:36pmby Cassandra Fairbanks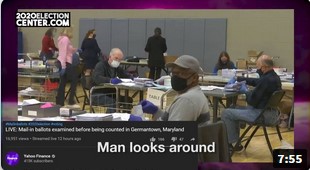 Australia is a totalitarian state with rigged elections and total globalist control of main stream media.
Yahoo Finance Catches Election Official Altering Ballot With Pen: ELECTION MEDDLING?65,863 views·Oct 22, 2020

Deep State in Britain fix election
JULIAN ASSANGE DROPS SHOCKING BOMBSHELL ON QUEEN ELIZABETH
Clive Palmer (Jewish) Political System In Australian Is Totally Corrupt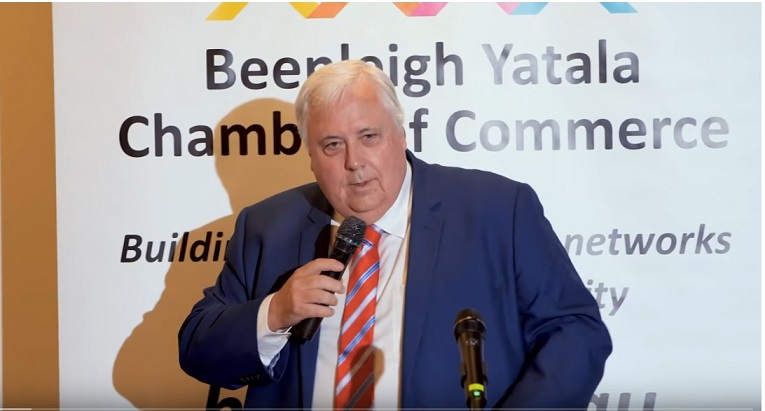 Clive Palmer is the leader of the Australian first Party. Clive says that he is worth 3 thousand million dollars
Clive Palmer " Listen to my speech at Beenleigh where I talk about the issues for Australia, and the practical solutions to Make Australia Great."
Clive disects electricity prices, paris agreement & climate change and impacts on our economy
Everybody should listen to Clive Parmer speech where he talks about the following:
Clive talks about why the Australian Electrify cost is so high.
No free speech allowed on mainstream media in Australia, the globalist has total control what information given to the public.
Rupert Murdoch Media Empire has too much control of mainstream news and is put together in the United States before it's given to the Australian public.
The mainstream media news promotes that political party's members hate each other, but truth is that many liberals and Labour are good mates behind the scenes.
The political system in Australian is totally corrupt and there is no democratic system.

The Australian political elections are rigged and political parties know who going to win before the election.
Australia is a totalitarian state with rigged election and total globalist control of main stream media.
Clive Palmer talked about the electrical structure in Australia needed a major overhaul. Members of liberal and labour parties had advisers come from oversea to advice them. The advisers said they could over haul the electrical system and they would give a loan of 45 billion dollars at 10% interest. All the state governments agreed with the deal. This is why Australian electivity cost is arising so high that makes Australia industry less completive against other countries. The Australian Government could obtain a loan at 2% interest and instead of paying 10%. The deal was made because the lobbies made money and big donations given to Liberal and Labour parties.
Comment.

If the Australian Government fully controlled the Australian Federal Bank they could have paid the total cost at no expense to the Australian people.
Clive Palmer supports the non white immigration into Australia.
Clive Palmer said "If you are communist in your 20's you do not have a heart and if you are communist in your 40's you do not have a brain.