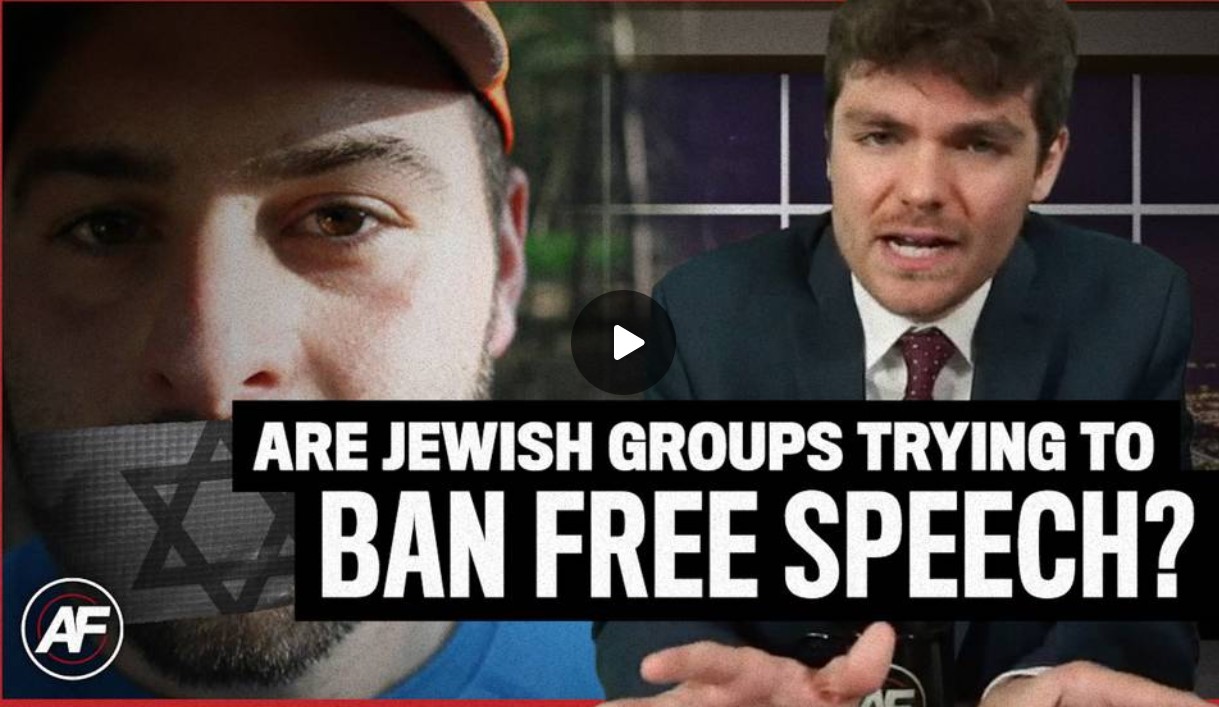 Why Is It Always JEWISH Groups Trying to SHUT DOWN Free Speech?
You were so close let me finish that thought for you, if you are a third world immigrant or migrant and you think America is racist go back to the third world country you come from. There is no reason for jews or muslims to be in a Christain nation and infringing on our right to reject their religion. There is no reason for third world immigrants and migrants to be in a first world nation and voting in our elections against us.
"We, the Jewish people, control America, and the Americans know it." — Israel Prime Minister Ariel Sharon, October 3, 2001 "Once we squeeze all we can out of the United States, it can dry up and blow away" Benjamin Netanyahu, 2002
Thank you Nick. People need to open there eyes and see where all of the calls for censorship have came from throughout the past 5 years. It's always been Jewish groups, 9/10 times. Why is it? Read their religious law book the Talmud. Just search up "Talmud quotes about Christianity and white people". It will change the way you view Judaism.
"If you don't know anything about your enemy, you cannot defeat your enemy, and you shouldn't even be on the battlefield!" ~ William Cooper
"It's the JEWS man, it's always been the JEWS!" ~ Michael Jackson
THE ORTHODOX JEWS REPRESENT A REAL THREAT TO ALL CONSERVATIVE CHRISTIANS EVERYEHERE . UNDER THEIR NOAHIDE LAWS ALL CHRISTIANS ARE GUILTY OF DEATH UNDER THEIR BLESPHAMY NOHIDE LAWS ., THAT CLAIM CHROST WAS KILLED UNDER THEIR BLASPHAMY LAW FOR CLAIMING HE WAS THE SON OF GOD . THEREFORE ALL CHRISTOANS OF CHRIST ARE ALSO HUILTY OF COMMITING BLASPHAMY AND THEREFORE ARE GUILTY OF DEATH .
its not reg jews down street .. these are sabbatean death cults .. reg jews dont even understand kabbala or the nwo
We have to let idiots like the KKK have free speech--the moment we say "anti-Semites can't speak" all political speech that threatens tyranny will be rolled into that "not free speech" category (as is being done now).
"White Nationalism is dangerous--therefore we must shut Gab down... not because we're traitors or anything, but because they are." So... are White Nationalists as dangerous as Marxists? When did White Nationalist last overthrow a country and murder 25,000,000 people, like Marxists were caught planning here?
These groups are actually ran by Ashkernazi Fake Jews and their ancestors come from Russia and accepted Judaism as religion of choice during the 6th century! Also the Governor of Texas wanted Gab to be shut down!
THANK YOU AGAIN ALEX! Nick Fuentes is a REAL AMERICAN PATRIOT and I love to see him on banned.video !!!!
America is in the middle of a revolution. As in Russia in 1917 where the revolution succeeded, as in Germany in 1919 where it was thwarted...we are witnessing an awakening to the origins of the Jewish Revolutionary Spirit. This issue goes back to the foot of the cross, where the Jewish high priests Annas and Caiaphas told Christ that they would accept Him as their Messiah if he came down from the cross and helped them build the earthly kingdom they wanted... He didn't do that, and the Jews chose Barabbas instead. By rejecting Christ as the Messiah, they rejected the Logos Incarnate, and when they rejected the Logos, they rejected the order God chose for this World, an order that ended Old Testament Jewish Ethno-supremacy. When they rejected the order God chose for the world, they became revolutionaries, and this is why to this day, they have acted as political, social, cultural and religious revolutionaries in every country they have occupied for the last 2000 years. What you are seeing now is the Logos Rising. Like Truth, the Logos always comes out. There is no stopping this. It is God's Will. Go forth, seek and speak the truth to all that you know. God will enlighten you if you ask, seek and knock, and He will use you according to His will.
Zuckerberg and Deep State Control
The Tommy Robinson Interview That Got Me Banned From The U.K.
Using the Refugee Migration Crisis to Build the New World Order