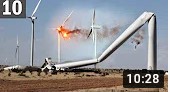 From time to time, wind turbines can fail. Faulty equipment or extreme weather is often the cause of these failures. Today we're taking a look at wind turbine failure events.
TOO MUCH WIND! 10 Wind Turbine Fails
The turbine made a strange noise so they had to evacuate it. How long does it take to get everyone out of a turbine!? Then they had to evacuate a zone around the base of the turbine. How many people loiter around turbines? Then we were told that debris was thrown hundreds of feet into the air! How high up is the turbine? Even if the debris fell straight down it would be "hundreds of feet in the air". Such sensationalist commentary. I concur that the turbines all failed. I agree it's undesirable. But let's stick to the facts.